How to Create a Wall Gallery in 6 Simple Steps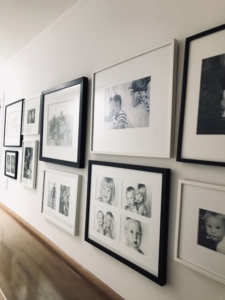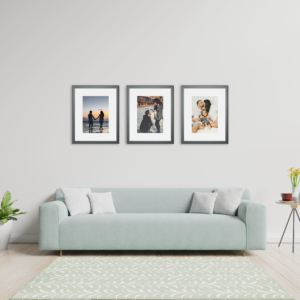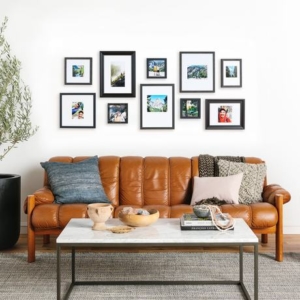 6 Simple Steps to Creating a Wall Gallery (+ Resources)
So many of my clients have wishes of creating a wall gallery in their hallway or home. A wall gallery always cozies up and personalizes your home, and helps tell your family's story. It's one of the best ways to enjoy the beautiful professional photos you've invested in. I know how overwhelming this can feel, so I've created this simple checklist and resource page. This mostly applies to creating a gallery with a new set of photos, though you can certainly incorporate existing frames.
The frames & photos you select will depend on the size of the wall area that you are working with. So it makes sense to first measure the area.
Browse frame companies & choices (see list below) for ideas. All of the companies in my list below have excellent examples of layouts that you can copy! There are many colors & finishes to choose from; however you can not go wrong with a simple black, brown or white gallery frame.
Select your images based on the number of frames your wall will accommodate. You may want to frame some images alone, or you can mix things up with a pair or a triptych of photos matted together in one frame. This is a little bit of chicken-and-egg and you may play around a bit.
Fine-tune your photo and frame selection. Sometimes it helps to cut the frame shapes out of brown paper (grocery bags work!) and tape them to the wall as placeholders first. If you don't already have your photos printed, now is the time to place your print order. There are an array of companies that will offer frames as well as printing. The way your photos are printed is critical if you would like them to stand the test of time.
Place your orders and wait for the frames to arrive.
The most rewarding step is next: Displaying your photos! If you're not comfortable with a level and a hammer, you can hire a professional picture hanger. For assistance with hanging your framed photos, you can hire a local professional who specializes in exactly this.
(The Picture Plays company suggests using taskrabbit.com.  There is a section for "Hanging & Installation" link or craigslist.com and search for a "Handyman".  Depending on your area, prices will range from $25 to $65 per hour.)
Custom framing: If you are looking for simple & classic black or white wooden gallery frames, I contract with an excellent local art framer that I work with to custom-frame my client's work.  I offer this service for prints 8"x10" and up. I'm happy to guide you, and I'll deliver your pieces to you personally. These are very high-quality frames that feature my professional prints, 4-ply mats and museum glass. You can change the prints out later and replace with new prints as time goes by.
Full-service printing and framing

If you prefer to go with an online framing company, I can recommend two here that clients have had a positive personal experience with:

Framebridge
https://www.framebridge.com/materials
Framebridge offers full-service printing & archival framing using high quality materials. They feature many beautiful frame options and wall gallery templates. Their website is easy to use and their product ships with clear UV acrylic glass. They are well-established and offer a premium product.
Picture Plays
https://pictureplays.com/picture-wall-layouts/
This company, based in California, was launched in 2020 and its founder is the former owner of Photograph + Frame in San Francisco. They also offer an array of beautiful gallery ideas, multiple framing options & high-quality mats. Something that sets them apart is the choice of 3 different types of glasses. I'm a fan of their museum glass, which adds to the price a bit. Their prices are so affordable that you can easily justify the nicer glass. The Picture Plays interface is super user-friendly and they offer several options for combinations of frame groupings. You can also send them photographs that I have printed for you, or that you've printed elsewhere. You purchase frames ONLY for an excellent price. Or they will print/mat/frame for you.
If you choose to order from Picture Plays, they have given me a special introductory offer to share with you. Get 10% off your total order with my promo code: JSP10. (This code may be used multiple times.)
DIY framing:
If you are a do it yourself-type, Pottery Barn has beautiful frame selections and a helpful guide with nice visuals for how to design a gallery wall:
https://www.potterybarn.com/pages/mirrors-wall-art/how-to-design-a-gallery-wall/?cm_src=OLDLINK&cm_sp=pipbanner-_-default-_-howtogalleryw
I love this line of frames in particular that's currently being offered:
https://www.potterybarn.com/products/wood-gallery-multiple-opening-frames/?cm_src=rel
https://jenniferskinner.com/wp-content/uploads/2023/03/Jennifer-Skinner-Logo.png
0
0
Jennifer Skinner
https://jenniferskinner.com/wp-content/uploads/2023/03/Jennifer-Skinner-Logo.png
Jennifer Skinner
2021-01-31 15:08:19
2022-06-28 14:55:09
How to Create a Wall Gallery in 6 Simple Steps